Schneider Electric to set up manufacturing unit in GMR AeroCity Hyderabad
Jul 06, 2022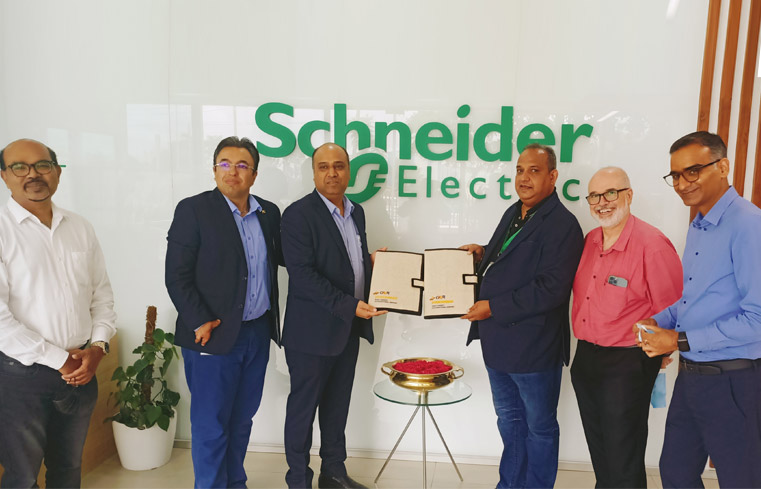 GMR Hyderabad Aviation SEZ (GHASL), a subsidiary of GMR Hyderabad International Airport (GHIAL) announced an agreement with Schneider Electric, the leader in digital automation and energy management, to build and lease a state-of-the-art manufacturing unit in GMR AeroCity Hyderabad.

As part of the agreement, AeroCity will build the facility on 18 acres of land and lease it to Schneider Electric, in a non-SEZ area in GMR Industrial Park. The project will be unveiled in two phases. The first phase will have the facility spread over 2 lakh square feet and be handed over for operations by June 2023. In the second phase, the facility will be further expanded by an additional 1.75 lakh square feet.

"With more global industrial players looking at India to set up their manufacturing facilities, this partnership will further contribute to 'Make-in-India' and attract more players to leverage our facilities and capabilities within the GMR Hyderabad AeroCity," said Aman Kapoor, CEO – Airport Land Development, GMR Group.

"We are glad to associate with the Government of Telangana and GMR for building this world-class facility at the Hyderabad Airport Industrial Park," said Javed Ahmad, senior vice president, global supply chain, international region, Schneider Electric. "GMR has the proven capability in building large Infra projects and we hope that this facility will become a benchmark for both GMR and Schneider Electric, globally" he added, cementing GMR's status as a leading infrastructure enterprise.

GMR Industrial Park is part of a well-established airport ecosystem that affords it greater security and access to uninterrupted utilities like water and power. The Industrial Park also has a robust IT backbone and enjoys the comfort of social infrastructure available at the airport city. It also offers a multi-product Special Economic Zone (SEZ) and a Free Trade Warehousing Zone (FTWZ) along with warehouses for rent and end-to-end logistics support. Strategically located close to Hyderabad International Airport, GMR Industrial Park boasts multi-modal connectivity through road, rail and air.